Dinner in Lisbon and Madrid
To calm a growling tummy and enjoy sidewalk sights, tapas can be had anywhere in Portugal or Spain from about 11:00 in the morning until the sun rises the next morning. Look for places with the name "Taberna" which means "tavern" in Spanish, Portuguese, or Greek. Or, more directly for tourists, "Tapas." In the U.S., "tavern" has a seedy meaning that suggests a place that reeks of stale beer and urine. Not so in Europe. A taberna is simply a restaurant that is open in the evening and serves both food and drinks.
Eons ago, tapas were simple fare designed to cover the top of a glass as a favor to flies to prevent them from drowning. A simple crust of stale bread sufficed, as tapas were mostly for flies' benefit. Then, several hundred years ago, presumably when universities invented the MBA, marketers began practicing differentiation to create competitive advantage. They applied their skills to tapas. Rather than merely old bread, concoctions of olives, cheese, cured meats, tomatoes, beans, and grilled fish were piled atop slices of fresh bread.
Soon, the reason to frequent one bar over another was not the quality or quantity of drink, but the creativity and quality of the tapas. Then, profit-minded MBAs got involved and tabernas began charging money for tapas. A steadily evolving arms race to create evermore enticing and exotically named tapas is the result. Now, tapas may be served on slices of bread, but just as often they are on plates and have no physical connection to your drink.
Madrid is not like the Midwest U.S. where 17:30 dinner (5:30 pm) was established because that is when farmers come in from their fields. The locals in Madrid do not start thinking about dinner until closer to 21:00. If you get hungry before 21:00, tapas are the solution. That said, many restaurants in the big cities in Portugal and Spain understand the commercial benefit of satisfying tourists. If you cruise streets with crowds, you will find places willing to seat you at 19:00. The two maps pasted below show you where to walk to find a wonderful meal, lunch or dinner, in Lisbon and Madrid. If you want to mix with the locals, wait until 21:00 (9:00 pm) to think about dinner.
What to drink with tapas:
Beer. Spanish and Portuguese beers are very popular with the locals. Try Portugal's local Super Bock®, just so you know. Beer brewed on the Iberian Peninsula is not easy to find in the U.S., perhaps for good reason. At risk of starting a fight, in my expert opinion there are only a few countries in the world that make beer good enough to import. Thy are: Germany, Belgium, Ireland, England, and the U.S. Until the explosion of craft beer in the U.S. during the last 20 or so years, the U.S. was not in this group. When you sit at a sidewalk taberna mid-afternoon, you will see more locals drinking local beer than anything else. Once you try the local beer, proceed to a better choice… sangria.
Sangria. I fell in love with sangria this trip. Spanish and Portuguese sangria is a concoction of fruit juice, sliced apples and oranges, red or white wine or Spanish cava (the Spanish sparkling equivalent to inexpensive Champagne. Order a 1 liter pitcher, which will be one liter of sangria plus about one-half liter of ice.
Wine. Both the Spanish and the Portuguese make red and white wine that is very good and very reasonably priced in restaurants or wine shops. At home, my own cellar is overstocked with Spanish and Portuguese reds.
Vinho Verde. I am calling out Portuguese vinho verde (green wine) separately because it is special and very good. More than one afternoon in Lisbon, it drew a knowing smile when I ordered vinho verde. You can also ask that your sangria be made with vinho verde, which I recommend.
If you like grilled octopus (pulpo in Portuguese), I think the Portuguese and the Greeks do it best. Drat that I was so engrossed in eating that I forgot to take a photo.
The start of dinner in Madrid with red wine, sparkling water (aqua con gaz), fresh bread, and green olives
If you like roast leg of lamb, cordero asado in Spanish, I think the best places are Spain, Brazil, and Argentina. At the front desk of our hotel in Madrid, we asked Suzana for a recommendation. She said her favorite was La Bola Taberna. The accompanying two maps show where it is in the center of Madrid. The first map shows detail. The restaurant is in the middle of the red circle. The second map shows where it is relative to the entire city.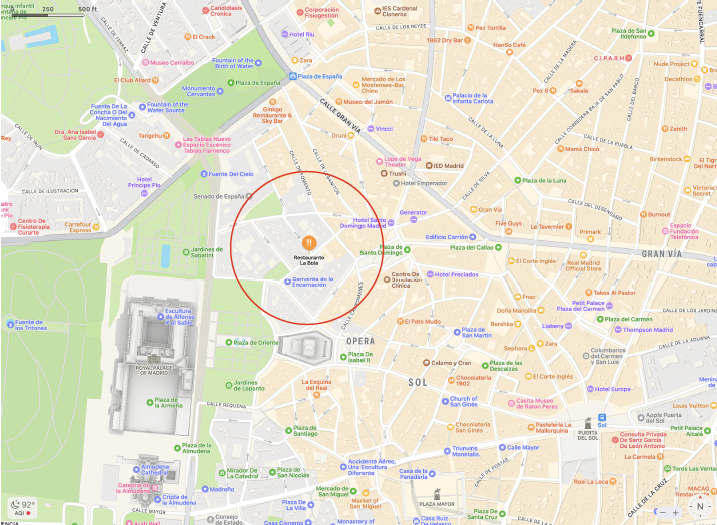 To make out-of-this-world cordero asado, start with a good, fresh, young leg of lamb. Put it in a heavy ovenable pot with a good lid. Sprinkle with salt, pepper, and fresh rosemary. Bake at 225ºF for six hours. The meat will be fall-off-the-bone tender. Separately, make a small pot of sauce that is crushed tomatoes, green pepper, lots of garlic, salt, and pepper. Cook it down and blend until smooth. Lift the lamb, carefully, because it will fall apart, from the pot and place it on a broiling platter. Brush the lamb with the sauce. Put under the broiler for a 10 minutes and serve with roasted potatoes and vegetables (zucchini, onion, tomato). That is as much as I could figure out from talking with the owner and my own reverse engineering. This was so good, we did it twice while in Madrid.
We stumbled upon another really interesting dish in Madrid called "cocido a la madrileña." It is made with either noodles or rice. It tastes great, but the way it is presented is what makes it something to serve to guests. The waiter brings out a broad but shallow soup bowl with a cooked and lightly hydrated 1/2-inch layer of either broken, thin spaghetti noodles or rice. Next, a clay pot with a lid is delivered. The waiter removes the lid and pours the broth from the pot over the noodles or rice. The soup is beef broth with pureed tomato, garlic, salt and pepper. The lid is put back on the pot and the waiter leaves. You eat the broth and noodles or rice. As you are finishing the soup, the waiter returns and dumps the remaining contents of the pot onto your plate. Our pot was sized for two people. After the broth was poured out, the urn contained slow cooked potatoes, tomato, carrot, onion, garbanzo beans, spicy chorizo sausage, and hunks of meat (beef, lamb, pork and chicken). Two meals in one, and the meat and potatoes in the pot stay hot while you eat the soup. I had trouble identifying the spices, but my guess is salt, pepper, olive oil, a touch of Spanish saffron, an entire unpeeled head of garlic, a bit of coriander, and lemon. A very traditional and hearty Spanish dish. I think I could eat this every day during the winter and never get tired of it.
One more thing… on the way to dinner in Madrid, we passed the Apple store. Two stories and the biggest Apple store I have seen. There had to be 300 customers inside and they were buying. Buy Apple.